Leather Charm Bracelet
Includes one metal keeper to clip on charms
No charms? No problem! Wear as a simple leather bracelet :)
Pairs perfectly with our smaller-scale charms
Black & Vintage Gold
$65.00 USD
Pair it with
Make it yours...
Alphabet Charm

$45.00 USD

Mushroom Charm

$55.00 USD

Freshwater Pearl Mini Heart Charm

$55.00 USD

Jumping Tiger Charm

$55.00 USD

Tennis Racquet Charm

$55.00 USD
Includes one metal keeper to clip on charms
No charms? No problem! Wear as a simple leather bracelet :)
Pairs perfectly with our smaller-scale charms
Details & Care

Dimensions: 6 - 7 1/4 inches - 6 adjustable holes
14k gold plating on brass and black cowhide leather
Weight: 7 grams
Made in China


If available, you can add gift wrapping for this product once it's in your shopping cart.

JW-BR-BU-100038-VGBLK
Also Shown
Shipping & Returns

Free ground shipping on U.S. orders $100+. Returns by mail or in-store within 30 days of delivery.

Find In-Store
Our stores ship & offer same-day pickup! Contact a store below to purchase.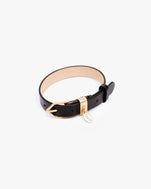 Leather Charm Bracelet
Black & Vintage Gold