Glasses Pouch
Drawstring pouch, perfect for sunnies or readers
Made of lightweight, soft, and durable Italian leather
Green w/ Cream Eyes
$95.00 USD
Pair it with
Make it yours...
Drawstring pouch, perfect for sunnies or readers
Made of lightweight, soft, and durable Italian leather
Details & Care

Dimensions (in inches): 3 5/8 W x 7 H
Oyster suede lining
Black leather pulls
Soft leather case
Cream Eyes are printed with water-based ink in a traditional hand silk-screening process
Made in L.A.


If available, you can add gift wrapping for this product once it's in your shopping cart.

AC-EW-SG-100011-GRN
Shipping & Returns

Free ground shipping on U.S. orders $100+. Returns by mail or in-store within 30 days of delivery.

Find In-Store
Our stores ship & offer same-day pickup! Contact a store below to purchase.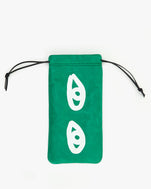 Glasses Pouch
Green w/ Cream Eyes