7mm Italian Chain Link Bracelet
14K gold 7 mm gauge chain bracelet
Hollow links keep the chain feather-light
Shown as the left-most bracelet on the model's wrist 
14k Gold
$1,498.00 USD
14K gold 7 mm gauge chain bracelet
Hollow links keep the chain feather-light
Shown as the left-most bracelet on the model's wrist 
Details & Care

7 inch bracelet
14k yellow gold chain bracelet



If available, you can add gift wrapping for this product once it's in your shopping cart.

JW-BR-CN-100017-GOLD
About the Designer

Adina Reyter is a fine jewelry brand for women who live their lives with strength, happiness and a sense of possibility.

From pavè diamond necklaces to 14K gold chains, each and every piece has been thoughtfully designed so that it can be worn and enjoyed everyday - day to night for years to come.
Shipping & Returns

Free ground shipping on U.S. orders $100+. Returns by mail or in-store within 30 days of delivery.

Find In-Store
Our stores ship & offer same-day pickup! Contact a store below to purchase.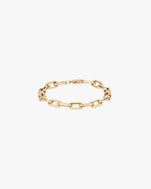 7mm Italian Chain Link Bracelet
14k Gold