Athena Greek Coin Necklace
Solid 14k gold head of Athena
18 inch chain
Molded from ancient Greek coins
14k Gold
$960.00 USD
Solid 14k gold head of Athena
18 inch chain
Molded from ancient Greek coins
Details & Care

14k gold medallion
18 inch chain
Molded from ancient Greek coins
Pendant measures approximately 10 mm x 10 mm
Made in L.A.
This item is excluded from all promotions & discounts


If available, you can add gift wrapping for this product once it's in your shopping cart.

JW-NC-CN-100005-GOLD
About the Designer

Based in Los Angeles, Kathryn Bentley's aesthetic arises out of changing obsessions and visual research. Kathryn Bentley's namesake line of fine jewelry flourishes from carefully selected materials and the hands that craft them.
Shipping & Returns

Free ground shipping on U.S. orders $100+. Returns by mail or in-store within 30 days of delivery.

Find In-Store
Our stores ship & offer same-day pickup! Contact a store below to purchase.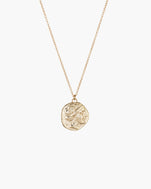 Athena Greek Coin Necklace
14k Gold