Classic Hoop Earrings
Los Angeles based Kinn designs solid gold modern heirlooms, made to last a lifetime
Featuring a high polish finish and simple clasp—these 4mm hoops will remain a wardrobe staple that you'll reach for day to night
14k Gold
$320.00 USD
Los Angeles based Kinn designs solid gold modern heirlooms, made to last a lifetime
Featuring a high polish finish and simple clasp—these 4mm hoops will remain a wardrobe staple that you'll reach for day to night
Details & Care

14k solid gold—always.
Weight: 0.9g per earring
Thickness: 4mm
Total diameter: 20mm
Hinged back closure


If available, you can add gift wrapping for this product once it's in your shopping cart.

JW-ER-CN-100068-GOLD-XS
About the Designer

Inspired by you, and your many moments lived. Kinn believes in celebrating you, and the uniqueness of your narrative. That jewelry is a second skin, companion to your memory and witness to your adventure. In designing modern heirlooms, made to last a lifetime - the kind you'll invest in and pass down.

Shipping & Returns

Free ground shipping on U.S. orders $100+. Returns by mail or in-store within 30 days of delivery.

Find In-Store
Our stores ship & offer same-day pickup! Contact a store below to purchase.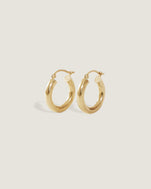 Classic Hoop Earrings
14k Gold