Crossbody Strap
Change it up!
Can be attached to any bag w/ D-rings
Braided viscose / leather tabs / brass snap hooks
Multi Braided
$95.00 USD
Pair it with
Make it yours...
Moyen Messenger

$445.00 USD

Moyen Messenger

$485.00 USD
Change it up!
Can be attached to any bag w/ D-rings
Braided viscose / leather tabs / brass snap hooks
Details & Care

Length: 45 inches
Width: 1 1/2 inches
Made in L.A.

Mecca is 5 feet and 11 inches tall, size 2-4
Miwa is 5 feet and 5 inches tall, size 2



If available, you can add gift wrapping for this product once it's in your shopping cart.

SG-ST-CB-100009-MULTI
Also Shown
Shipping & Returns

Free ground shipping on U.S. orders $100+. Returns by mail or in-store within 30 days of delivery.

2-Year Warranty

We stand behind our products and are happy to repair items purchased within the past 2 years.
Find In-Store
Our stores ship & offer same-day pickup! Contact a store below to purchase.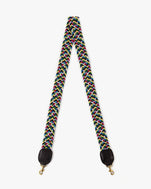 Crossbody Strap
Multi Braided