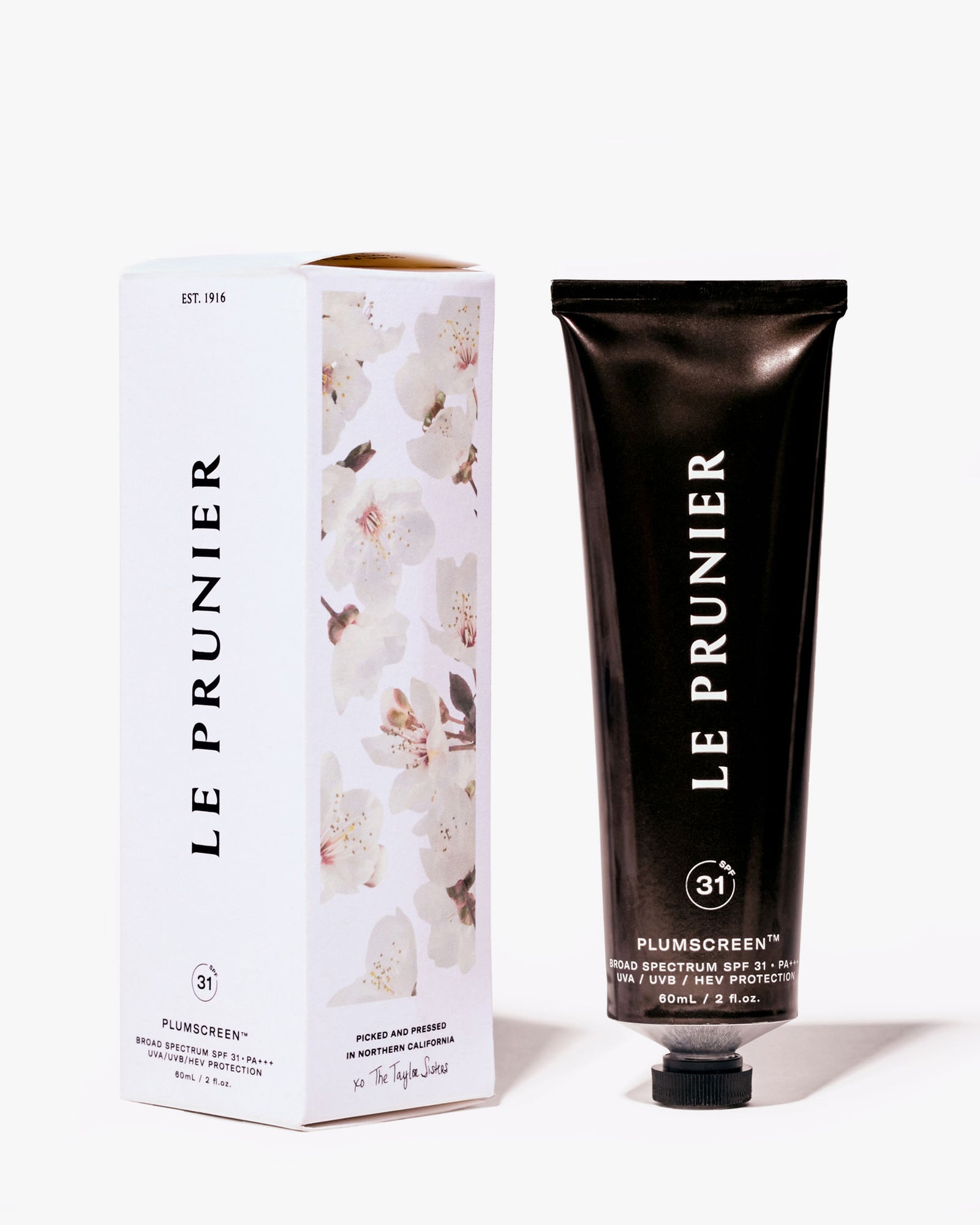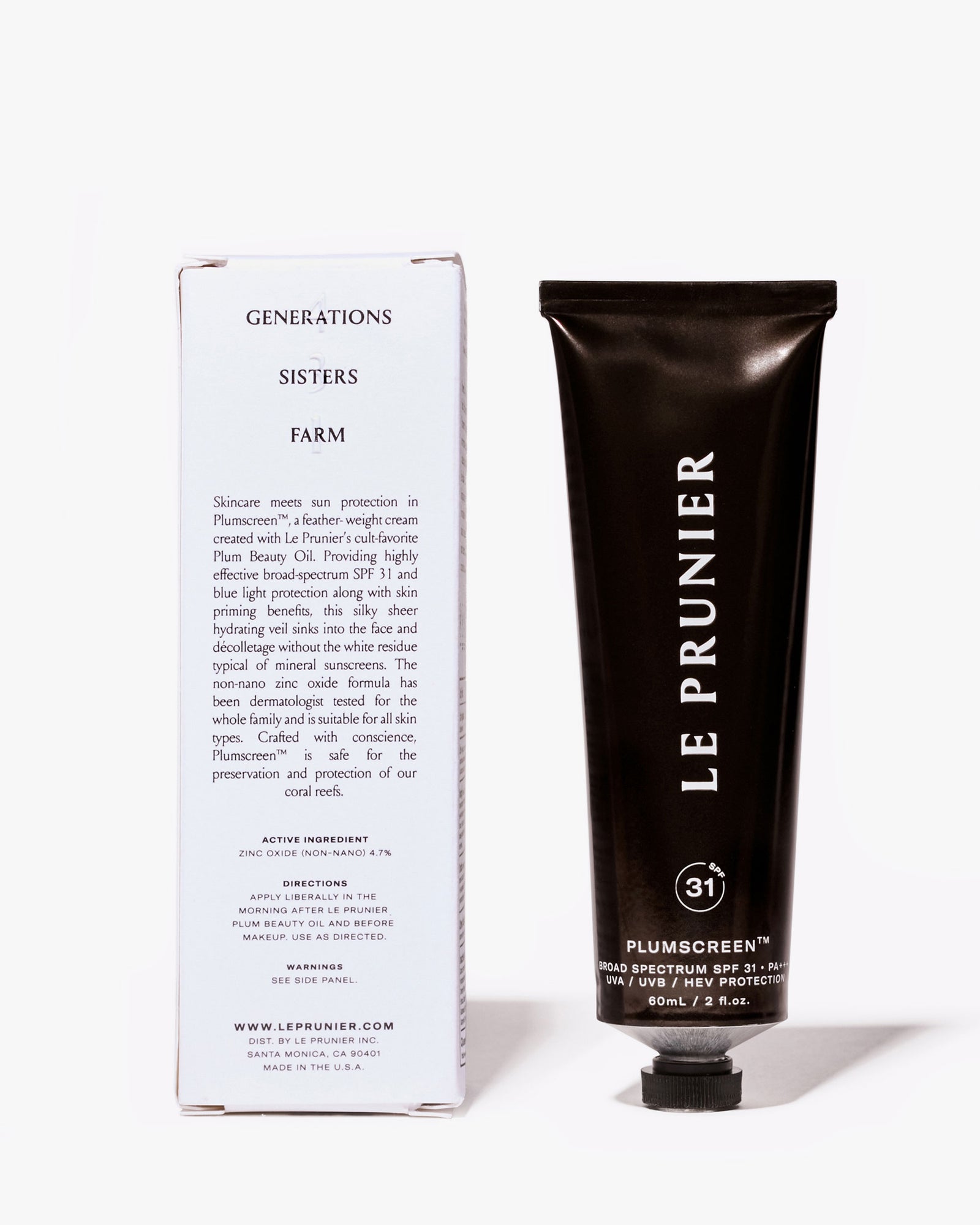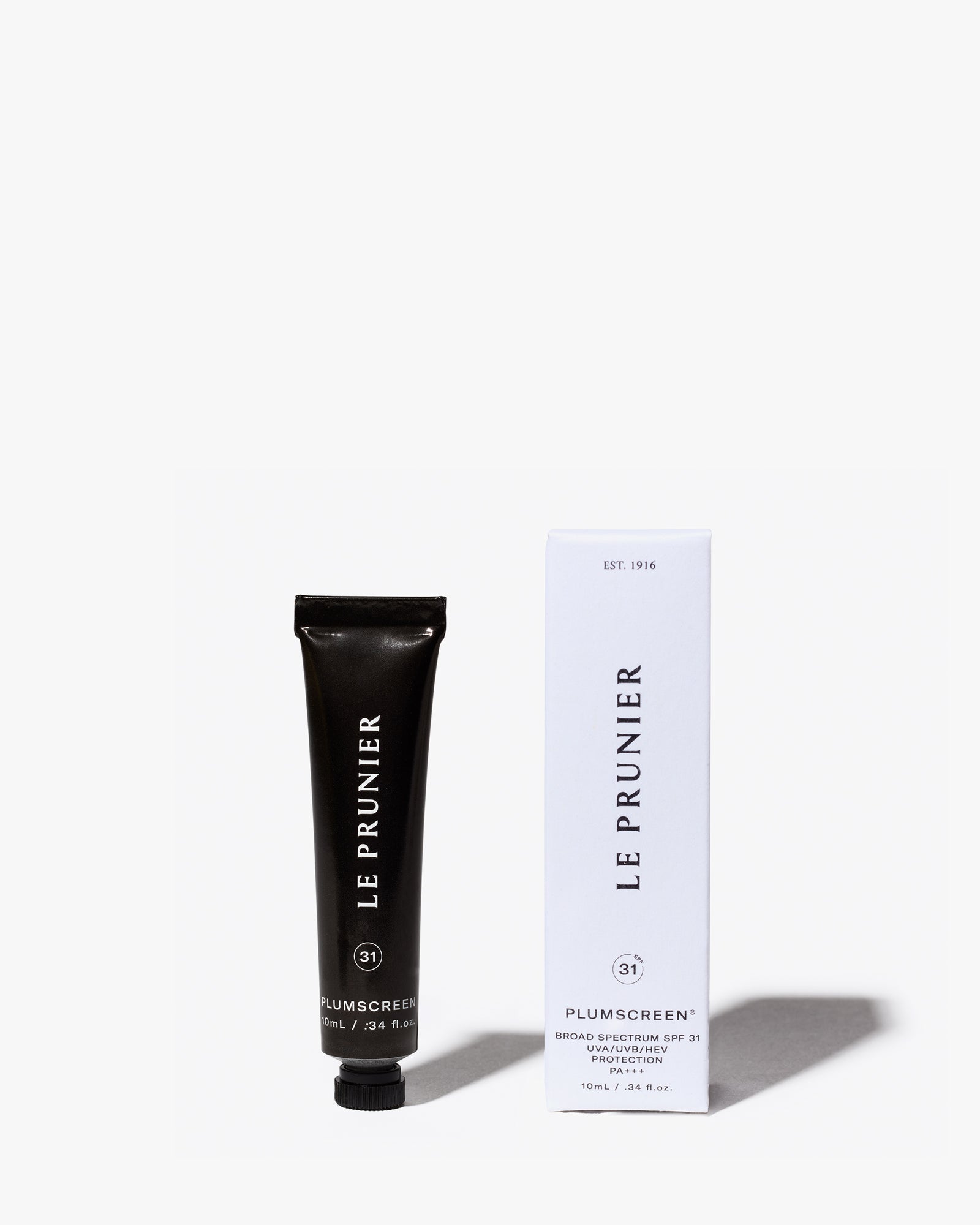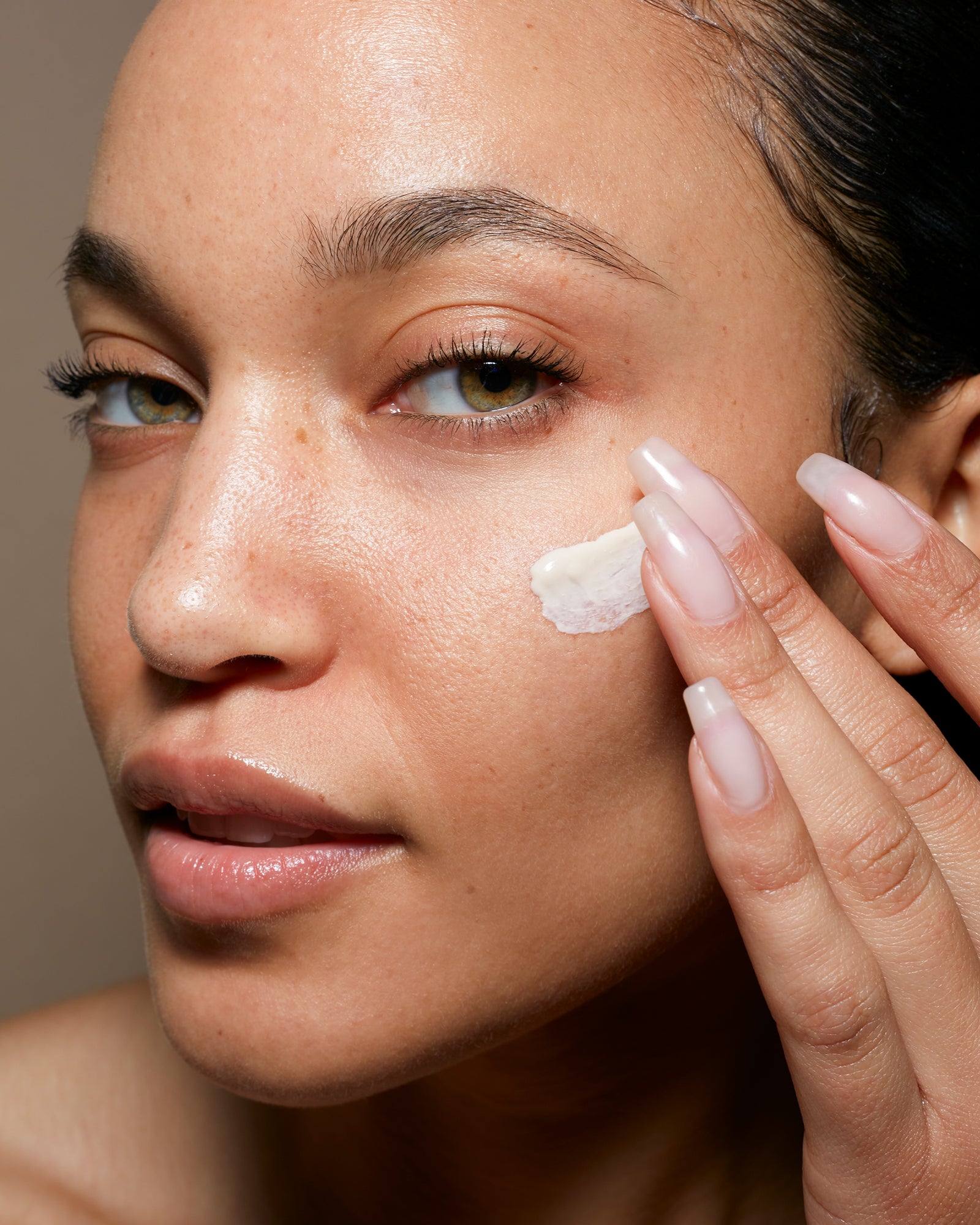 LE PRUNIER
Plumscreen
Plumscreen® is the first and only SPF 30+ to utilize the all-natural Power Of Plum® by way of Plum Superfruit Complex® to provide clinically demonstrated skin benefits along with broad-spectrum sunscreen and blue light protection
Plum Superfruit Complex® is derived from up-cycled plum ingredients found on a 100 year old family farm
̧Antioxidant-rich, shelters skin and protects collagen from pollution, blue light and UV damage while shielding from DNA-damaging free radicals
All skin types, especially acne prone and extremely sensitive or allergy-prone skin
Transparent application with no tint
SPF 31
$28.00 USD
Plumscreen® is the first and only SPF 30+ to utilize the all-natural Power Of Plum® by way of Plum Superfruit Complex® to provide clinically demonstrated skin benefits along with broad-spectrum sunscreen and blue light protection
Plum Superfruit Complex® is derived from up-cycled plum ingredients found on a 100 year old family farm
̧Antioxidant-rich, shelters skin and protects collagen from pollution, blue light and UV damage while shielding from DNA-damaging free radicals
All skin types, especially acne prone and extremely sensitive or allergy-prone skin
Transparent application with no tint
Details & Care

Available in two sizes
Instructions:
Apply in the morning after Le Prunier Plum
Beauty Oil and before makeup. Reapply at least every 2 hours. Use a waterproof sunscreen if swimming or sweating. If used as directed with other sun protection
measures, decreases the risk of skin cancer
and early skin aging caused by the sun's
damage.

NO parabens, sulfates, fragrances, essential
oils, or chemical ingredients.
Reef Safe
Gluten free, Halal, PETA certified (Vegan & Cruelty Free)
Non-comedogenic
Dermatologist tested. Clinically tested. Kind to skin and the planet.
Hypoallergenic certified
Pediatrician approved
Clinically tested by FDA registered and ISO certified labs
PA+++ protection (high UVA protection)


If available, you can add gift wrapping for this product once it's in your shopping cart.

BH-SC-SN-100002-BLK
About the Designer

In September 2018, siblings Jacqueline, Allison and Elaine Taylor collectively founded Le Prunier, an organic beauty line based on The Power of Plum®. In their travels with their father, the sisters discovered how the culture of the Caucasus region of Western Asia regards the dried plum as the "Fruit of Life". In 2014, the Taylor sisters reexamined the skincare benefits of their family farm's main commodity and partnered with two world-renowned beauty labs. While maintaining the family's sustainable, organic farming practices, the Taylor sisters unlocked the extraordinary beauty benefits of this powerful fruit. Handcrafted from the Taylor's sun-drenched plum orchards, Le Prunier is a most precious and powerful oil for face, body, and beyond. Today, the sisters carry on the farm's legacy with a 4th generation perspective—tradition meets innovation®.
Shipping & Returns

Free ground shipping on U.S. orders $100+. Returns by mail or in-store within 30 days of delivery.

Find In-Store
Our stores ship & offer same-day pickup! Contact a store below to purchase.