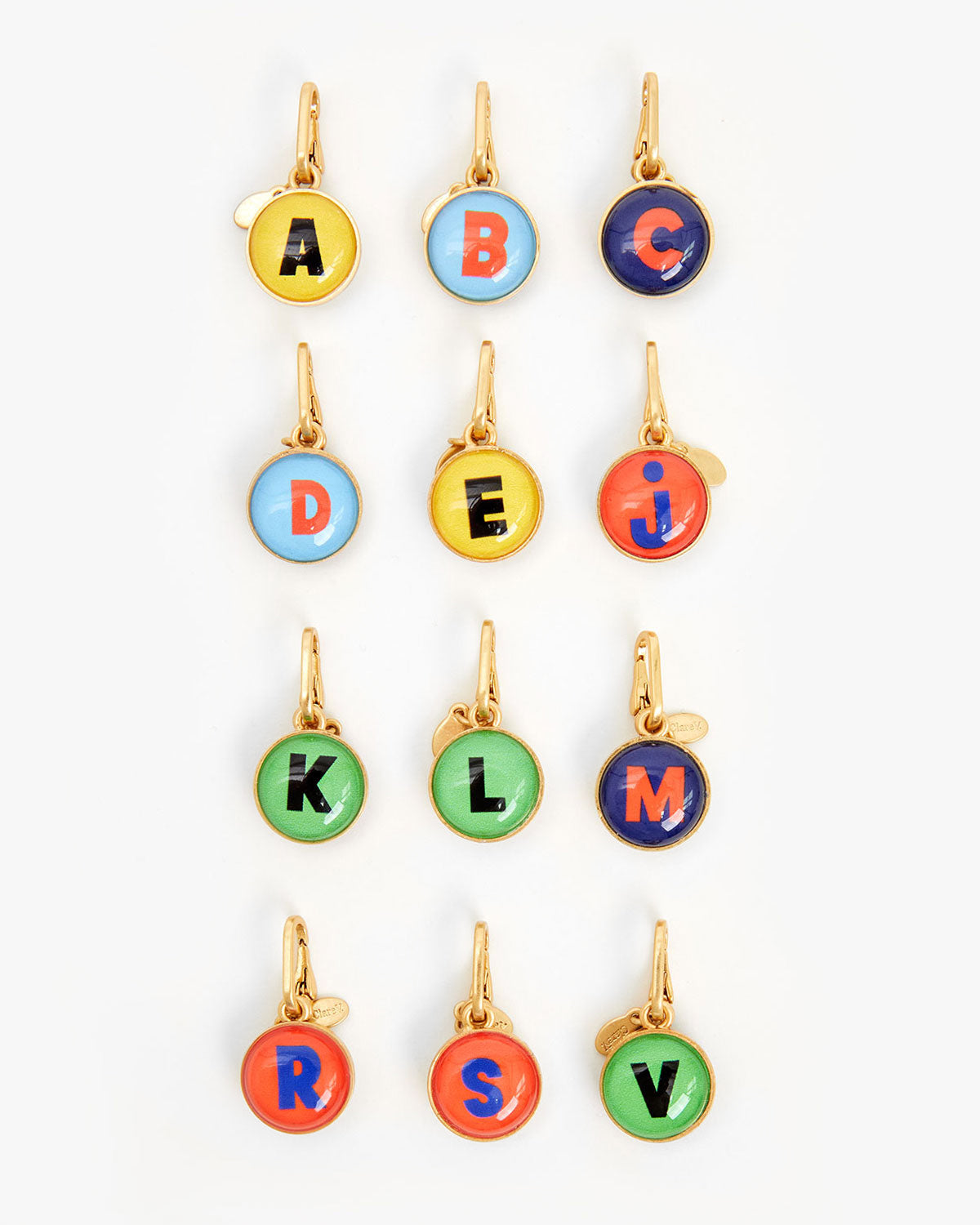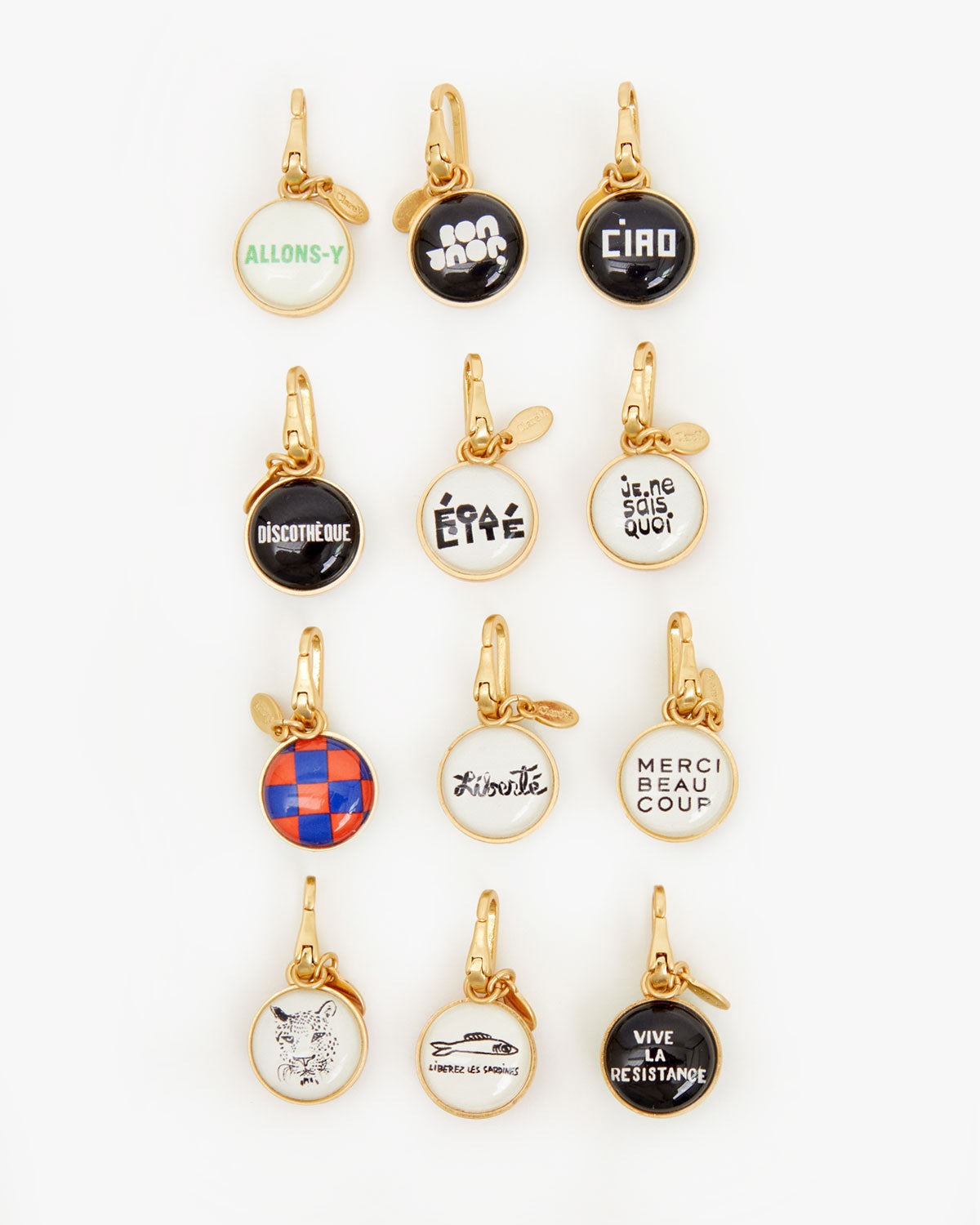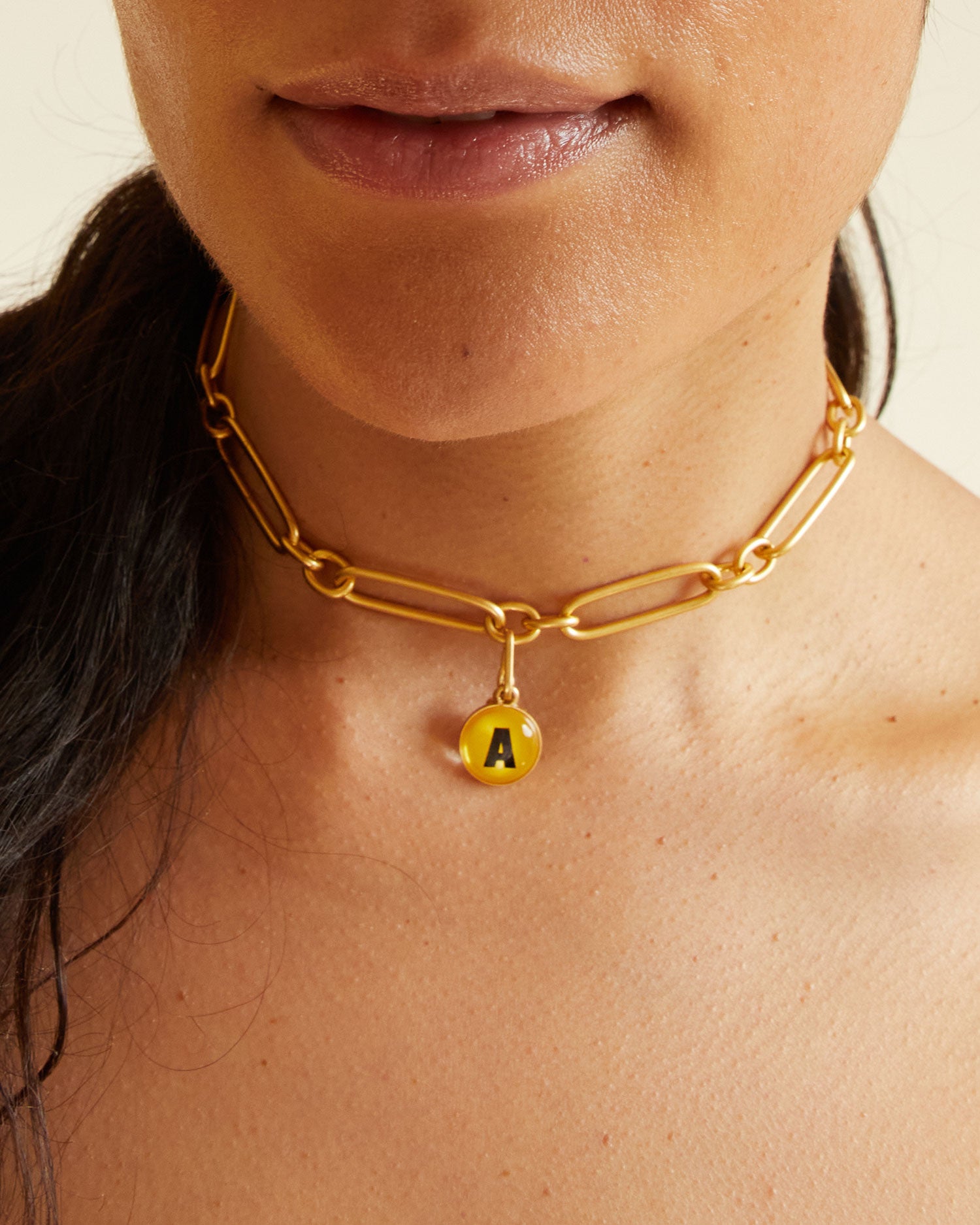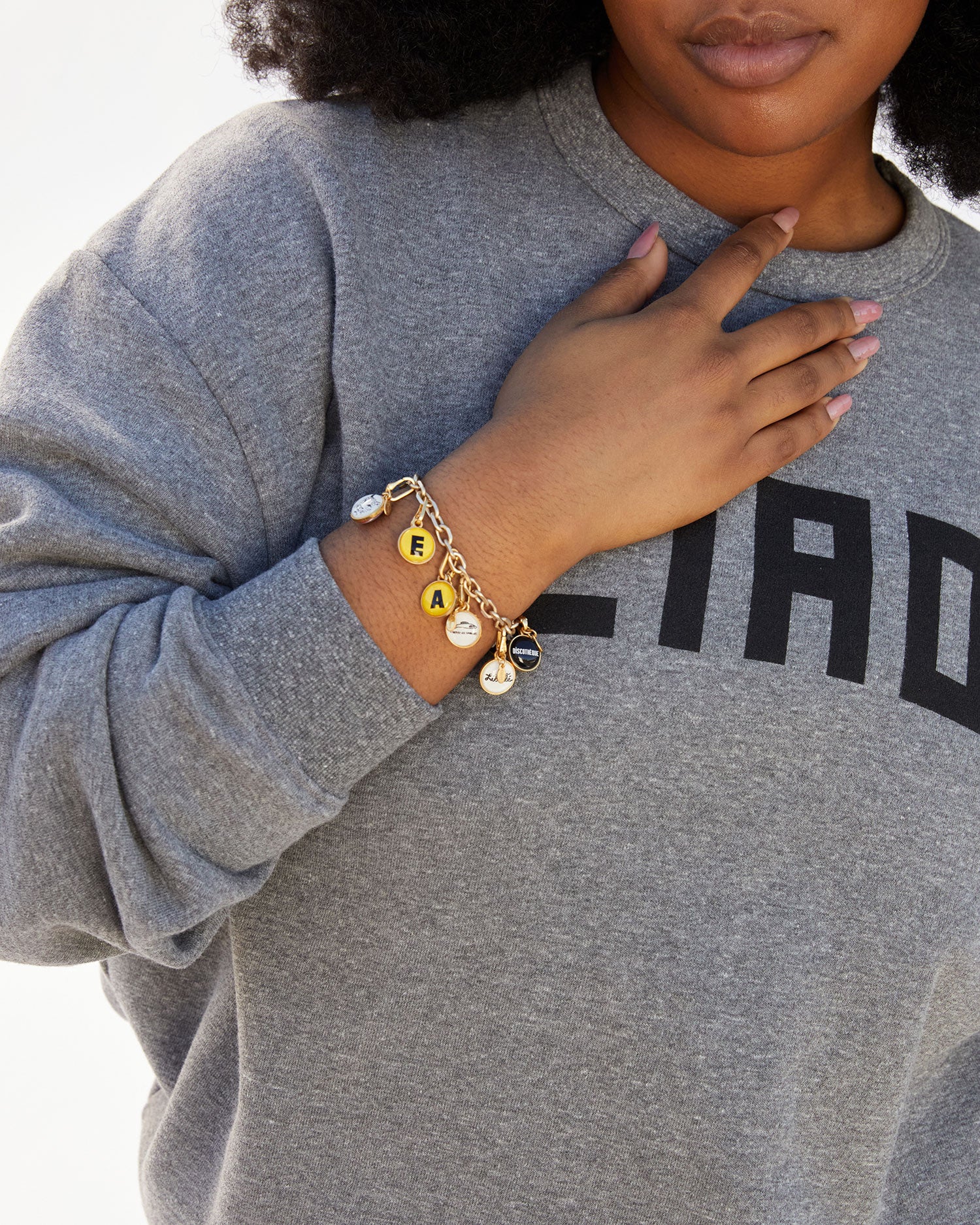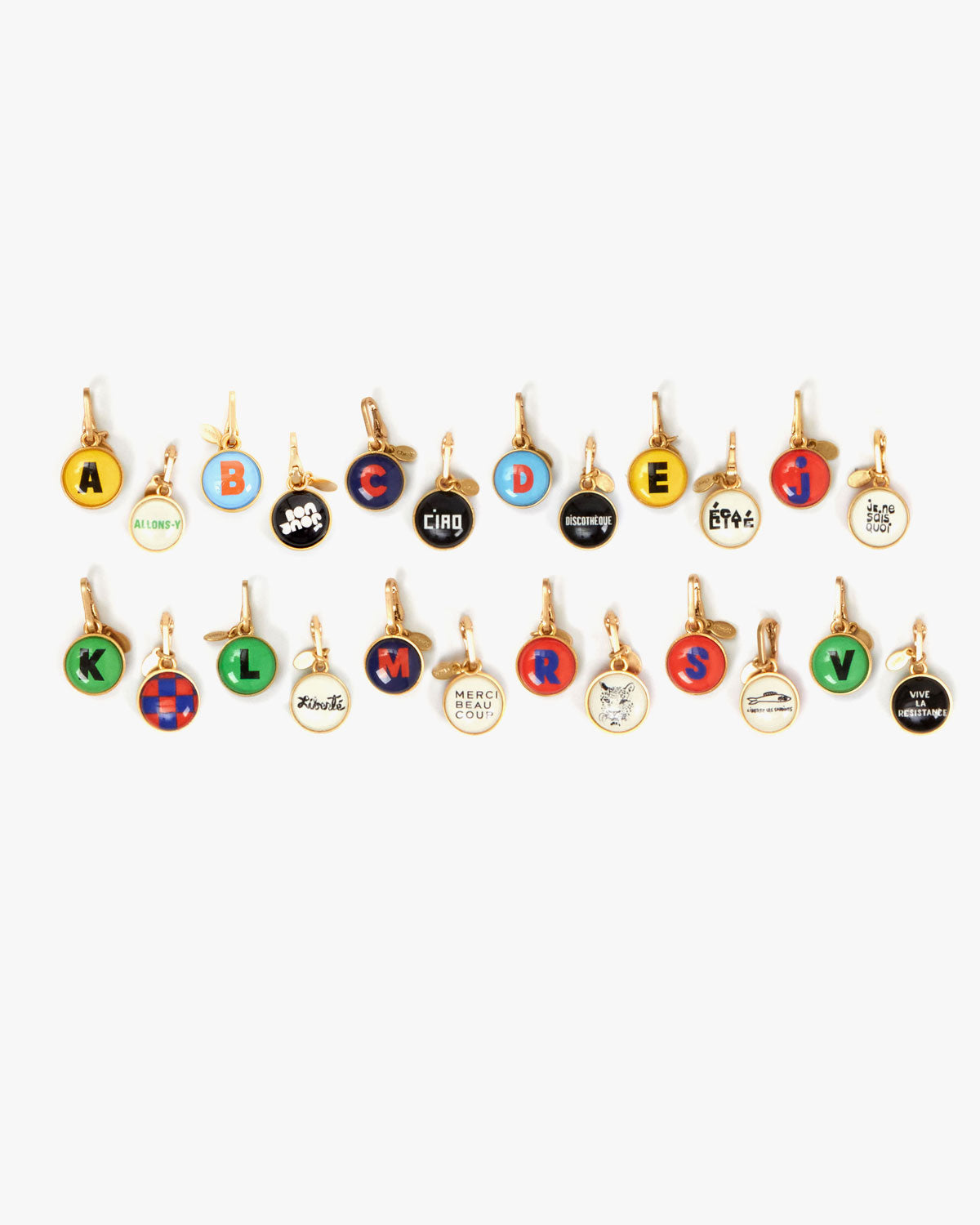 Alphabet Charm
A CV alphabet!
Each charm is reversible - a letter on the front and a classic CV phrase, pattern or icon on the back
Clear epoxy cabochon
Charms are designed to mix and match with our necklaces and bracelets
Vintage Gold w/ Multi
$45.00 USD
Pair it with
Make it yours...
Rolo Charm Chain

$115.00 USD

Paperclip Charm Chain

$145.00 USD

Charm Chain Necklace

$105.00 USD
A CV alphabet!
Each charm is reversible - a letter on the front and a classic CV phrase, pattern or icon on the back
Clear epoxy cabochon
Charms are designed to mix and match with our necklaces and bracelets
Details & Care

Dimensions: 14mm diameter
Spring hinge to connect to CV charm necklaces and bracelets
Weight: 3 grams
14k vintage gold plated brass
Clear epoxy cabochon stone enamel
Letters, phrases, and icons are screen printed on acrylic film sheets and placed under clear cabochon
Reverse of A Charm reads 'Allons-y'
Reverse of B Charm reads 'Bonjour'
Reverse of C Charm reads 'Ciao'
Reverse of D Charm reads 'Discothèque'
Reverse of E Charm reads 'Ègalité'
Reverse of J Charm reads 'Je ne sais quoi'
Reverse of K Charm has navy & red checkers
Reverse of L Charm reads 'Liberté'
Reverse of M Charm reads 'Merci beaucoup'
Reverse of R Charm shows CV icon whiskers the jaguar
Reverse of S Charm reads 'Liberez les sardines'
Reverse of V Charm reads 'Vive la Resistance'
Made in China


If available, you can add gift wrapping for this product once it's in your shopping cart.

JW-CH-HM-100052-VGMLT-A
Also Shown
Shipping & Returns

Free ground shipping on U.S. orders $100+. Returns by mail or in-store within 30 days of delivery.

Find In-Store
Our stores ship & offer same-day pickup! Contact a store below to purchase.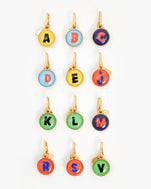 Alphabet Charm
Vintage Gold w/ Multi