Sardine Charm
The latest colorful & whimsical drop of CV jewelry
14k gold plating with glass stone eye
Our collection of charms are perfect stacked or solo on any of our charm necklace chains

Vintage Gold
$55.00 USD
Pair it with
Make it yours...
Charm Chain Necklace

$105.00 USD

Paperclip Charm Chain

$145.00 USD

Rolo Charm Chain

$115.00 USD
The latest colorful & whimsical drop of CV jewelry
14k gold plating with glass stone eye
Our collection of charms are perfect stacked or solo on any of our charm necklace chains

Details & Care

Dimensions: 17 1/2mm H x 4 1/2mm W
14k gold plated brass with glass stone eye
Spring hinge to connect to CV charm necklaces and bracelets
Imported


If available, you can add gift wrapping for this product once it's in your shopping cart.

JW-CH-HM-100044-VGJET
Also Shown
Shipping & Returns

Free ground shipping on U.S. orders $100+. Returns by mail or in-store within 30 days of delivery.

Find In-Store
Our stores ship & offer same-day pickup! Contact a store below to purchase.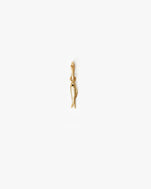 Sardine Charm
Vintage Gold